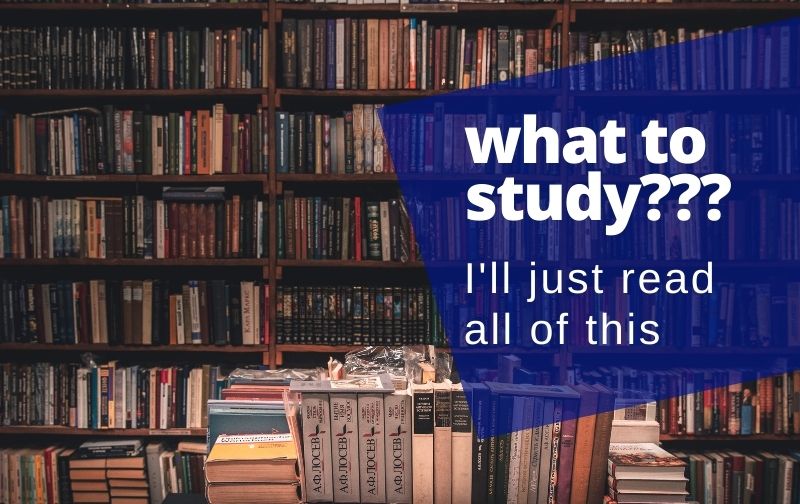 Crush the Bar Exam, Not Become Cardozo
By Ammon Jeffery
Updated: February 25, 2021
If it's been said once, it's been said a million times: the bar exam is hard. In order to succeed, you're going to need plenty of drive and ambition as you prepare over the many long hours you'll inevitably face.
However, one serious problem that many law school graduates face stems directly from this drive and ambition. During their three months of bar exam study, they single-handedly try to cram in the learning of three years of law school.
This can serve as a recipe for disaster as it can easily lead you to get lost in the weeds, taking deep dives into topics that you may not need to, and effectively wasting time you can't afford to lose. You are here to crush the bar, not become Cardozo.
Crush the bar
To begin your path to your legal career, you need to pass, which is a monumental task in itself as there are mountains of content that you'll need to memorize from a wide array of topics.
The MBE is a six-hour test and consists of 200 multiple choice questions that test your understanding across seven subjects. Of the 200 multiple choice questions, you need to get about 65% correct to pass. The MEE is a three-hour test and consists of six questions that test your understanding across fourteen or more subjects.
This means that those looking to pass should get a grasp of the essentials, the "meat and potatoes" of each topic, rather than looking to write a legal treatise. After all, once you pass, you'll have time to take deeper dives into the topics that you desire to learn more about, such as the field of expertise that you plan on choosing.
How Crushendo helps you pass
You only have a limited amount of time to learn the material from all of the topics listed above, as you don't know which ones will be tested.
At Crushendo, we've designed our products and services to help you gain the highest chance of passing. Each year, we thoroughly review the bar exam after it has been administered so we can properly adjust our materials. Crushendo covers all of the material released in the NCBE's MBE Subject Matter Outline and MEE Subject Matter Outline. If one topic is mentioned more often in the same test, or over past exams, we'll spend more time going over it in our materials. If a topic isn't mentioned as much, we'll adjust accordingly so you can better maximize your already limited study time. Crushendo also does this for the MPRE.
Crushendo also provides past MBE, MPT, MEE, and MPRE practice questions licensed from the NCBE with the point sheets that graders actually use. You can practice with real questions, just like what you will see on the bar exam.
Ultimately, we work to help you memorize the topics you need to know in order to pass the bar, rather than deep diving into every legal subject to learn every jot and tittle.
Res ipsa loquitur
Let's look at an example to paint a better picture of our process.
Res ipsa loquitur is a fairly broad subject of Torts. Here is how Crushendo covers it:
Res ipsa loquitur. Duty, breach, and actual cause can be inferred from res ipsa loquitur. What's res ipsa loquitur?  When something RILy bad happens, like your assistant leaves a scalpel in your patient's stomach, or a barrel flies out of your company's second-story window landing on someone below.
Responsibility – When you have responsibility (or "exclusive control") over the person or thing that caused the problem.

Sometimes others can steal control and get you off the hook. Other times, duties are non-delegable.

Innocent plaintiff – When the plaintiff was innocent or not "asking for it"—did not voluntarily contribute to the problem. And,
Looks bad – When the problem looks like it would not normally happen without negligence and there's no other logical explanation.
That's it! Just one clever mnemonic is all you really need. The bar exam hasn't gone deeper than this on any of the questions. You could find other bar exam prep programs dive much further into this topic, but it really isn't necessary. Why deep dive into a topic when it is only covered lightly on the bar exam? You can always go deeper into the subject, especially if you are planning to become a personal injury lawyer, but right now you are here to crush the bar exam!
Crushendo doesn't just "cover material", but as you see in this example, we provide ways for you to remember the things you read and help them stick in your brain. Crushendo does this by creating mnemonics, chunking the material into sections, and using audio outlines.
Letting you know what to expect
At the beginning of each one of the outlines we create, we let you know how important each subject is when it comes to being tested on the bar exam. You'll see graphs such as the one below: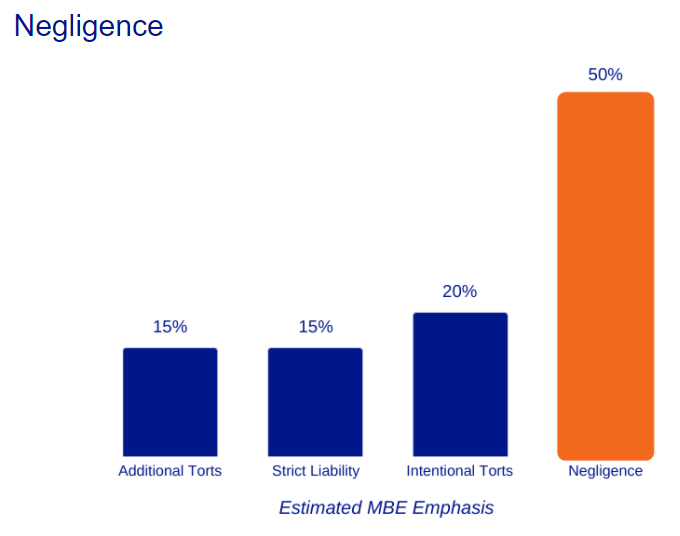 This allows you to better gauge and allocate your time efficiently. Our entire business model revolves around letting you know how to best manage your time so you can memorize the necessary material to pass.
Give yourself the best chances of passing
The time you have to prepare for the bar exam is limited. You should aim towards giving yourself the best chances possible of passing. This means studying hard and smart, allocating your time towards learning the topics that are covered on the exam.
Crushendo offers you a simple, straightforward, and affordable process that focuses on memorizing what you need to know, using mnemonics and other proven strategies that will allow you to perform to the best of your ability while taking the test. Remember, your goal should be to crush the bar exam. You can always become Benjamin Cardozo later.
If you are interested in crushing the bar exam, be sure to check out our services. Be sure to also follow our blog to learn additional tips and tricks when preparing for the bar exam.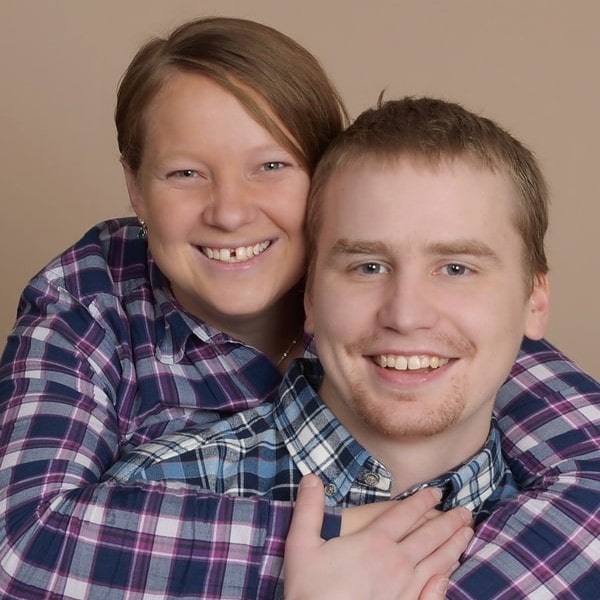 About the author
Ammon Jeffery loves writing. He graduated with a Bachelor's degree in English. His hobbies include reading, and playing video games and board games. He lives in Utah with his cute wife and daughter. His dream vacation is to explore WWI sites in Europe.