Ultimate Guide to Virginia State Bar Exam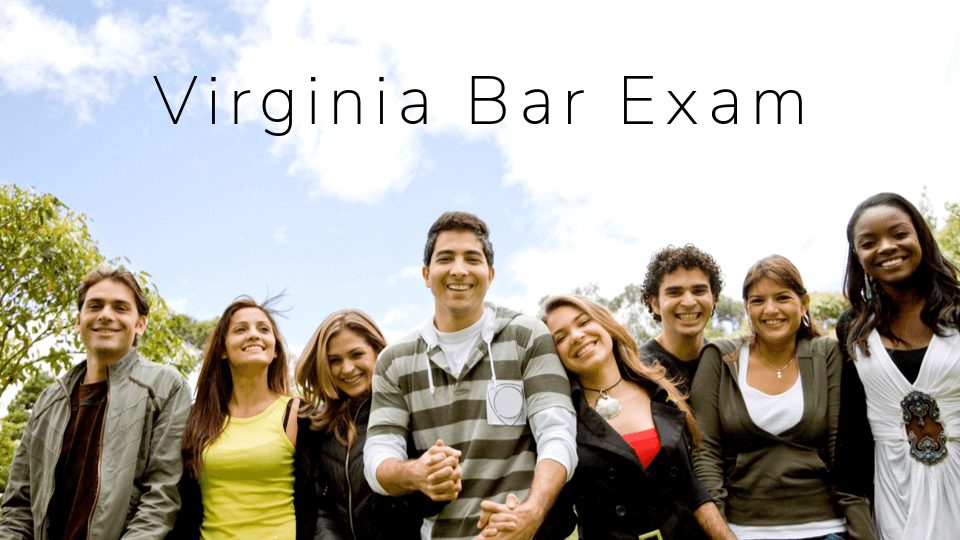 Virginia State Bar Exam | Basic Information
February 2022
First-Time Pass Rate: 76%
February 2021 (170 takers)
First-Time Pass Rate: 69%
Repeat Pass Rate: unknown
July 2021 (610 takers)
First-Time Pass Rate: 79%
September 2020 (196 takers)
First-Time Pass Rate: 79%
What's the format of the Virginia Bar?
The Virginia Bar is administered twice each year in Virginia (in February and July). The examination is administered over two days in four, three-hour sessions. The Virginia Bar has two parts: the Multistate Bar Exam (MBE) and the Virginia essay exam.
MBE
The MBE is a six-hour test and consists of 200 multiple-choice questions that test your understanding across seven subjects. Your MBE score comprises 40% of your overall score.
Virginia Essay Exam
The Virginia essay exam consists of 20 short-answer or multiple-choice questions and nine essay questions. Your Virginia essay exam score comprises 60% of your total bar score.

Virginia bar exam essay topics include the MBE topics, which are Business Associations, Civil Procedure, Conflict of Laws, Constitutional Law, Contracts, Criminal Law and Procedure, Evidence, Family Law, Property, Secured Transactions, Torts, Trusts, Unincorporated Business Entities, and Wills and Estates.
Additionally, the Virginia bar requires you to be prepared to answer questions about the following topics: Agency, Commercial Paper, Corporations, Creditors' Rights, Domestic Relations, Equity, Federal Jurisdiction, Local Government Law, Partnerships, Personal Property, Professional Responsibility, Suretyship, Taxation, and VA Practice & Procedure.
Learn more about the Virginia bar format. See Virginia example answers here.
Crushendo offers the most recent MEE questions to help you study for the Virginia bar, although you will need to study other Virginia-specific topics as well.
What's the Multistate Professional Responsibility Examination?
The Multistate Professional Responsibility Examination (MPRE) tests your understanding of established standards of conduct for lawyers. The MPRE is administered three times each year (in March, August, and November). The test consists of 60 multiple-choice questions and is two hours long. Check out this MPRE Tips video!
Upcoming Bar Exam Schedule, Dates, Location
Are you interested in taking the Virginia State bar exam? Here's some basic information on applying to take the Virginia bar exam.
If you desire to take the bar exam in February, you should submit your bar exam application by December 15. If you want to take the July bar exam, you should submit your bar exam application by May 10.
In addition to passing the Virginia bar exam with a score of at least 140, there are several requirements that must be met in order to be admitted as an attorney in Virginia, including:
Score 85 or higher on the Multistate Professional Responsibility Examination (MPRE) within the accepted time frame.
Committee on Character & Fitness certification.
Virginia State Bar Admissions Office
Phone Number
Main number: (804) 367-0412
Mailing address:
Virginia Board of Bar Examiners
2201 West Broad Street
Suite 101
Richmond, VA 23220
What to bring
Photo ID
Blue or black pens
1 set of unpackaged foam ear plugs
1 package of tissues
1 car key or fob
1 hotel room key
Eyeglasses without case
Cash/Credit card
Your Bar Examination Identification & Certification Card that has your photo, NCBE number, and examinee number
Important notes
You need to have these items with you for each of the four testing sessions.
Pens and pencils are provided to examinees.
Laptop testers should not bring their laptop in a case or bag.
Prohibited items
Any item that can connect to the internet
Any item that can record audio or video
Backpacks
Books
Briefcases
Calculators
Cameras
Notes
Phones
Food or drink
Purses
Radios
Rulers
Scratch papers
Study materials
Review allowed bar exam items here.