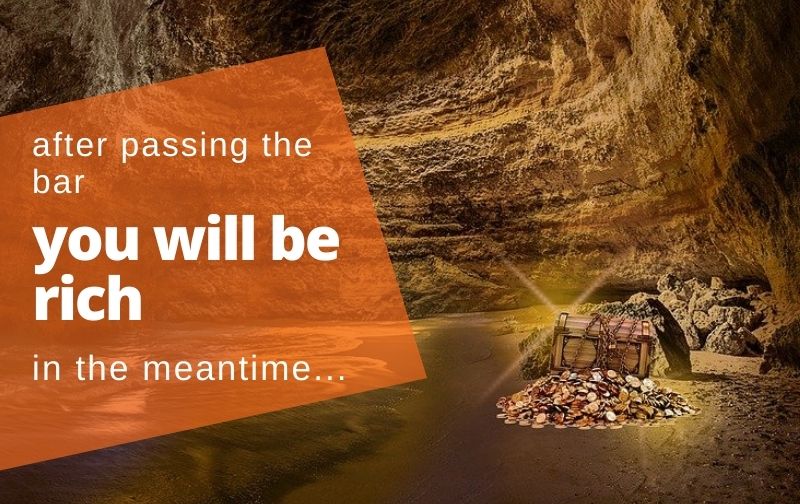 Top Money-Saving Tips for the Bar Exam
By Natalie White
Updated: January 26, 2021
After all the pain of law school, you finally reach the climax of your legal education: the bar exam. It might feel like everything good is waiting for you once you pass the bar . . . including a treasure chest of gold.
While you are focused on review courses, practice tests, and essay writing, there is a hidden danger waiting for you: money. Many 3Ls are completely unprepared for the financial cost of taking the bar exam. One company predicted that the minimum price of taking the bar exam was about $6,700. You will need to drop all kinds of money on prep courses and application fees, not to mention the actual travel and accommodation expenses of taking the bar.
The bar exam is already incredibly stressful, and you do not want to add any financial stress to your already overburdened life. Here are some tips on how you can save money while taking the bar exam.
Review bar exam prep courses
You NEED to pass the bar exam. Bar exam courses will help you be prepared. However, do not simply go out and sign up for the most expensive bar prep course available. You can save a lot of money by following a few tricks.
Compare courses
First, I would absolutely recommend that you buy a commercial bar exam prep course. As good as your law school education was and as highly motivated you are at studying, bar exam prep courses are designed to help you pass. They streamline the material so you are studying what you will be tested on. Good prep companies will use real NCBE questions so you know exactly what to expect. Bar prep courses are worth it.
Although you need to buy a prep course, you do not always need to buy the fanciest, most expensive course out there. Some bar prep courses are more than $4,000, while others you can get for less than $1,000. As a rule, online courses are usually cheaper than in-person classes. You may be able to pay for an online course, but then buy tutoring hours if you need it.
Compare what each course offers and think about how you learn. Do you want tutoring sessions? Are you interested in audio outlines? How many real NCBE questions are offered? Crushendo provides a comparison chart between several top bar companies.
One differentiating factor between bar prep courses is how long you can access the material. Babri only allows access for three months before the exam, while Quimbee will give you a window of five months. Other companies, like BarMax and Crushendo, will provide you with lifetime access to bar prep materials. I hate to tell you this, but you may need to take the bar exam again if you move to another state. If this happens, you will be grateful for lifetime access to current bar materials. Also, if you buy lifetime access you can purchase the materials while still in law school and use the outlines and flashcards as supplements in your classes.
Sign-up early
Bar prep companies often compete for law school students. They usually offer discounts for students who will lock in with their company during their 1L or 2L year. Early bird discounts can be as much as $1,000. Instead of waiting until your last year, decide early which bar prep company you are interested in, and then start looking for deals. Ask company representatives about current and promotional offers and find the best deal you can.
Become a sales rep for a bar prep company
Many bar exam prep companies hire local students to be their representatives on campus. If you get hired as a sales rep, you may get your bar prep for free, or earn credits towards your prep courses and get commissions on your sales. This could be an affordable way to earn money while paying off bar exam materials.
Use law school materials
Before you purchase bar exam materials, make sure you take a trip to your law school library. Many libraries have study materials that you can borrow. Some law schools pay thousands of dollars to purchase subscriptions to bar prep companies. Before you buy your own materials, try out what is freely available.
Take a law school review
Many law schools offer a bar exam prep course as a class. Taking advantage of this could save you time and money that you would otherwise spend after classes have concluded. If you are someone who focuses better in a classroom setting than in personal study, this might be a very useful option.
Another option is to choose to take subjects that will appear on the bar exam during your 3L year. Usually classes like contracts and property are required courses for law students, but some classes like family law appear on the bar but are not required to graduate. Taking classes like this will give you a leg up on preparation for the exam.
Ask your employer
If you already have a job waiting for you (especially if that job is in big law) your employer may provide financial assistance to take the bar. They may pay for your prep program, or pay you while you study for the bar. Make sure to research your firm and understand what is offered to you.
Many employers will simply reimburse you for what you spend on the bar exam, including your travel and accommodations. If so, make sure you keep track of all of your expenses and receipts, preferably in electronic form.
Meet bar application deadlines
As part of my job at Crushendo, I reviewed the bar exam application fees in every state. What do they have in common? EXTREME LATE FEES. Almost every state has late fees if you turn in your application after the deadline, some of which can be hundreds of dollars. Every state has a different application deadline, so you need to be aware of exactly when you need to submit your paperwork. Some states have multiple deadlines, with increasing fees after each one. You can save a lot of money just by applying to the bar exam on time. Start all your forms early, because you could easily be delayed by unforeseen bureaucracy problems.
Do not forget about deadlines for other parts of your application process. The MPRE costs $125 to register, but $220 if you register late. You will need to pay for character and fitness checks, criminal history reports, and maybe even fingerprinting. Almost all students will need to pay fees for using their laptop for the exam.
As you research information about bar exams in each state, you will learn about UBE states. If you want to become part of the bar in a UBE state, could you save money by paying cheaper application fees for a bar in a different UBE state? Usually, no. For example, the bar application fee in Massachusetts is $815, but in Vermont the fee is $300. Could you save money by taking the bar in Vermont? NO. The fee for transferring your UBE score from Vermont to Massachusetts is the same cost as taking the bar exam: $815. Total cost: $300 + $815 = $1,115. Transferring your score would cost more than simply taking the test in Massachusetts. In most UBE states, the cost of taking the bar in-state is similar to the cost of transferring a UBE score to that state.
Get accommodations early
You will need to find a suitable place to stay, hopefully within walking distance of the bar exam location. In many states, especially those with thousands of test-takers, nearby hotels will fill up quickly. You may find yourself spending hundreds of dollars on last minute hotel accommodations. Instead, save money by looking up hotels early and monitoring websites for good deals. You can check places like Kayak or Booking.com to compare prices between hotels.
If you will need to fly in, make sure you are also checking prices on flights. Airplane tickets usually fluctuate a lot, and you can check multiple carriers to find the cheapest options.
As you plan for your accommodations, it might be smart to reach out to your fellow law school classmates who are taking the bar in the same state. You could split the price of an Uber from the airport or give each other tips on good deals.
Bring food on test day
You may be planning on just buying food during your trip, but bringing your own food could save you a lot of money and stress. Some hotels and testing locations are surrounded by many food options for breakfast, lunch, and dinner, but others have only a limited selection of foods with high tourist prices. Bringing even just a few sandwiches and snacks will save you from expensive fast food purchases.
Buy a computer early
Most people take the bar exam on a laptop. You could save up to $200 by handwriting the test and avoiding laptop fees and software installation, but handwriting the essays on the bar exam frankly sounds awful. You will need a computer—one that does not crash, turn blue, or refuse to turn on. The more current your computer is, the less likely it will be that the bar exam software will create problems.
During the year, there are often electronic sales, especially around Black Friday. Looking at those sales, researching computers, and getting the best deal available will likely save you $100 or more. If you wait until the week before the bar exam and suddenly notice that your computer is randomly restarting, you will have to pay a lot more money to buy a computer at the last second.
Save beforehand
As you plan for the bar exam, make sure that you are prepared for the true cost of the bar exam. You do not want to be working full time while trying to study (and may not want to work part-time either) so you need to plan ahead and be ready to cover your costs. Keep in mind your living expenses during this time.
Also, consider what happens after the bar exam. Do you want a relaxing post-bar trip to the beach? Will your job start in September? If so, do you have money for August? Making plans ahead of time will help reduce your stress about finances.
As a backup plan, there are loans available specifically to help pay for expenses during the bar exam. They are easily available at Sallie Mae or other companies. Keep in mind, however, that these loans will be at a higher rate than other student loans.
The bar exam is already stressful—follow these tips and avoid further financial stress.
About the author
Natalie White is a 1L at BYU Law School. She likes eating homemade ice cream, driving mopeds, and reading dense legal arguments before bed.