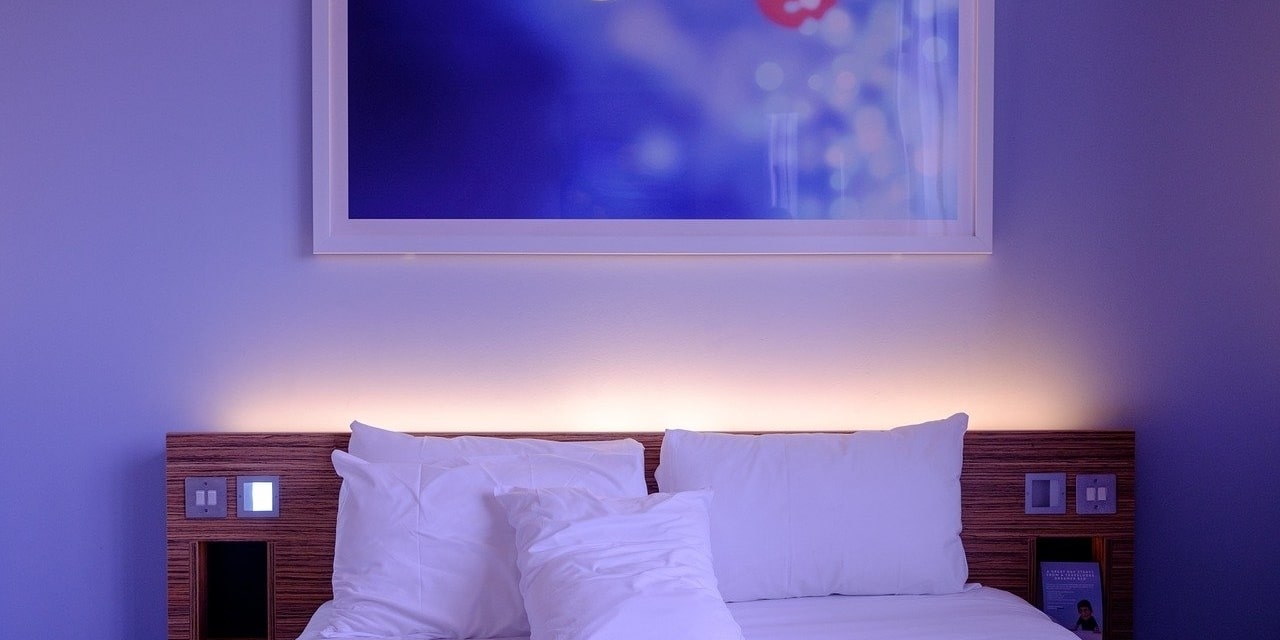 Where to Stay When Taking
the Bar Exam
By Natalie White
Updated: October 27, 2020
With your strict study schedule, paperwork deadlines, and mountains of stress, it can be easy to forget about the pragmatic parts of taking the bar. Where are you going to stay?
Things are different right now because of the COVID pandemic, but eventually things will be back to normal and we will need to worry again about things like hotels and travel expenses. Maybe I wrote this post to remind myself what it was like to travel and stay at a hotel (it's been awhile).
Where to take the bar
You should take the bar exam at the most convenient location that will also qualify you for your future employment. Most of the time, you are required to take the bar where you will practice law. For some jobs, including federal government jobs, you can take the bar in any state as long as you get licensed. If you have options, you may want to compare pass rates and and choose to take the bar in an easier state.
Some states have no reciprocity with other states. If you ever want to practice there, you need to pass the bar in that state.
States and territories with no bar reciprocity:
California
Delaware
Florida
Hawaii
Louisiana
Mississippi
Nevada
Guam
Northern Mariana Islands
Palau
Puerto Rico
If you want to work in a Uniform Bar Exam (UBE) state, you may be able to take the exam in your current location instead of traveling to another state. UBE states allow your bar exam scores to be portable. For two to five years after taking the exam (depending on the state), you will be able to transfer your score to another UBE state without sitting for a bar exam in that state. By taking the bar in your home state you can save a lot of money in travel and lodging, but you will instead have to pay the fee to transfer your bar exam. You may also have to fill out extra paperwork and pass fitness certifications in both states. I do not think the hassle to transfer your score is worth the convenience of testing at a different site, but remember that it is an option.
Click here for more information on UBE states and state bar exams.
Remember that some states have multiple test locations. Make sure to go to the location that is most convenient for you. Check the prices of airplane tickets and hotels at the different locations if you want to save money.
States with multiple bar exam testing locations:
Alaska
California
Massachusetts
New Jersey
New York
North Carolina
Oklahoma
Pennsylvania
Texas
Living locally
Once you know the location of your exam, you will need to decide where you will stay during the test. Unless you live less than 30 minutes from the exam site, I would not recommend staying at home. There are simply too many variables involved in a commute. The bar exam happens only twice a year. What if there is a seven car pile up blocking the exit to the testing site? What if you drive over a nail? What if the new teenage driver in front of you is determined to drive fifteen miles under the speed limit? You do not want to deal with delays or with road rage.
If you do decide to drive to the exam, you should visit the exam site before test day and become familiar with the exact commute time and the parking available near the exam site. Most bar exams take place at a convention center or similar building, and many have convention style parking that is available. Contact the convention center to make sure you can park there. Other exams occur at universities and there may be specific rules about where you can park. Understand these rules clearly.
On test day, give yourself plenty of time to get to the exam. Make a music playlist for the car ride that will help you relax or help pump you up as you drive. After you drive home on the first day, make sure you relax. Do not let social, work, or family obligations stop you from recharging each exam night.
Staying at the exam location
Most test takers will find a place to stay at the location of the bar exam. Some will travel just an hour or so to take the exam, while others will need to fly across the United States to pass the bar in the place of their future employment. If you drive or fly, arrive the night before if at all possible.
Hotels
Most test takers choose to stay at a hotel during the bar exam. After three years of law school and all the work you have done, you might want to treat yourself. Get a luxurious, fluffy bed, free breakfast, room service, and complimentary, sweet-smelling shampoo. You could relax after the test in the hot tub or work off stress on the treadmill. Hotels are easier to book and may be more reliable than other places.
Many states administer bar exams at convention centers or hotel conference rooms. Several of these sites have hotels that are located next door or across the street (see table below). Many other states will have hotels within walking distance. Reserve your hotel room early, because hotels close to the testing center may fill up.
Testing locations with connected hotels:
Arkansas
Connecticut
Washington DC
Georgia
Iowa
Louisiana
Maine
Maryland
Minnesota
Mississippi
Missouri
New Mexico
Oregon
Vermont
Virginia
Washington
West Virginia
Wisconsin
Since the bar exam is usually administered in a major city, there are likely many hotels to choose from. I would recommend choosing a hotel that is within easy walking distance of the convention center. There may be cheaper hotels further out of town, but being able to walk to the test can help you avoid complicated issues like finding city parking and dealing with unfamiliar traffic.
Although there are a lot of benefits to a hotel, there are some drawbacks. If you book a room at the hotel next to the testing center, you might find yourself surrounded by other stressed-out test takers. Their anxiety could easily infect your mood and constantly remind you of the looming bar exam. However, if you are a person who likes to express their fears to relieve stress, booking a room at the hotel next to the testing center could give you some moral support.
Another drawback of hotels could be expense. Maybe you just landed an amazing job at a top law firm and are ready to splurge at the fanciest downtown hotel. But maybe you are still waiting to hear back on your applications, just beginning your student loan payments, and are worried about the cost of a hotel. Just because a hotel is "recommended" by the state bar does not mean that you have to stay there. Take some time to compare prices and amenities, and choose the right place for you.
Other options
There are other short term housing options apart from hotels. You could get a short term rental or Airbnb near the testing site. There are several benefits of rentals. Airbnb rentals can be cheaper than a regular hotel room, especially for multi-day stays. You usually have more space and a full kitchen, which could be an important benefit if you do not like fast food. Although a rental could be convenient, make sure you read the reviews for any place you are considering. If there are reports of loud neighbors or an inattentive host, do not stay there.
You may be tempted to consider some other living arrangements. Maybe your roommate's cousin's girlfriend's brother has an apartment two blocks from the testing site, and he said you could set up an air mattress in the living room. While staying with family or friends may work out for you, I would not recommend it. You need to make sure you have a private space that is free of the demands of others. You want to be able to control your environment and not be controlled by the whims of others.
Length of stay
The bar exam usually runs for two days, the last Tuesday and Wednesday in February or July. If you are staying at a hotel or rental, you want to book a room at least for the night before the test and the night between sessions. You likely want to book a room Wednesday night after the second session too. After testing for two days, many people like heading back to the hotel for a relaxing night before traveling home.
If you decide not to stay Wednesday night, you usually need to check out by 11 am, and will need some place to keep your luggage during the second day of the exam. You may be able to leave your luggage with the hotel, or keep it in your car if you drove.
Some states follow a different schedule for their bar exam:
Delaware: The bar exam in Delaware runs for three full days, so you will need to book a hotel for Monday, Tuesday, Wednesday, and likely Thursday night.
Louisiana: The bar exam in Louisiana runs for three full days, so you will need to book a hotel for Monday, Tuesday, Wednesday, and likely Thursday night.
Montana: While the bar exam only runs two days in Montana, there is a required Montana Law Seminar that occurs the day after the exam. The seminar runs from 8-4 pm, so you will want to book a hotel for Monday, Tuesday, Wednesday, and likely Thursday night.
Nevada: The bar exam in Nevada runs for two and a half days, ending at about noon on Thursday. Since the exam ends earlier, you may have time to travel home after the exam on Thursday. You could ask for a late checkout at your hotel, if that's possible.
Remember to eat
Wherever you stay, make sure you have plans for food. You want to eat like a king during the bar exam. What comfort foods and delicious snacks do you need to have available?
First, consider breakfast. Exam start times vary, but most tests begin around 9 am. You want to arrive early and be as relaxed as possible. If you are staying at a hotel, find out whether breakfast is available there. This is likely the most convenient option. If you are staying at a rental, consider shopping for groceries the day before the test starts.
You will also need to plan lunch. There may be many restaurants in close proximity to the testing center. However, remember that many other exam takers are also looking to get lunch at about the same time. You may be facing long lines with nervous, chatty people. If you are an introvert like me, you will probably want to pack a lunch. As soon as the first session of the exam ends, find yourself a secluded corner, put on your headphones, and recharge as you eat.
Finally, be aware of how you will get dinner. Decide whether you want to order food or stop by a restaurant. Your hotel may be located close to many food options, or it could be isolated from other stores and restaurants. Knowing this beforehand will help you prepare and reduce food related stress. If you stay at a rental, you may have a full kitchen and can make your favorite comfort food. If you stay at a hotel, find out beforehand whether you will have access to a microwave, fridge, or freezer. You will want to know this before you buy a giant bucket of mint chocolate chip ice cream or a package of triple-butter microwave popcorn.
Do what's best for you
Wherever you decide to stay during the bar exam, remember to do what is best for you. What will help you relax? Think through the many aspects of your bar exam accommodations. Planning where you will stay beforehand will help reduce your stress in the weeks before the bar exam and during the days of the exam.
About the author
Natalie White is a 1L at BYU Law School. She likes eating homemade ice cream, driving mopeds, and reading dense legal arguments before bed.
Related articles